A lack of local traffic management became frustrating for
Curt Morben Contracting
as well as a handful of local businesses, as it was common to see crews from Prince George, Quesnel, 100 Mile House and the Lower Mainland working projects in the Cariboo on a daily basis that employed no local people.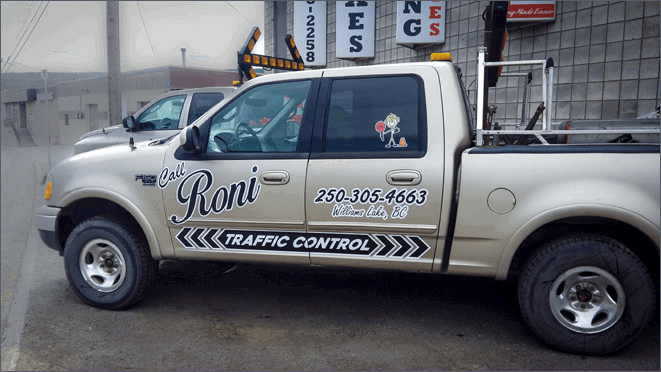 Being that traffic management was a necessity for Morben on his worksites, and because he already had traffic control personnel in his workplace, Morben decided to expand his operations to include traffic management.In the fall of 2015 Morben secured an arrangement with long-time employee Roni Mitchell to become Traffic Manager and representative of a local traffic management company. 2015 saw the birth of a new addition to Curt Morben Contracting that advertises as "
Call Roni
".
Simple, personal and professional -- as all Morben operations are -- "Call Roni" gives the high level of service that the public expect from a Morben operation. In 2016 Morben purchased all the assets of a large traffic management company, and expanded "Call Roni" to become the only local traffic management company operating in Williams Lake. With state-of-the-art equipment and the best night gear, there is no project that "Call Roni" cannot handle.
Traffic management is essential, and is mandatory on the majority of projects today. Traffic personnel are simply put out there to save lives, provide safe passage through worksites and ensure that the workplace is safe. On any project, anywhere on public roadways --you will see traffic control personnel. These people endure and work in the harshest and most severe conditions imaginable. Traffic control personnel cannot leave their site unattended and are the brunt of every drivers frustration in construction zones. Facing non-attentive and agitated drivers, the harshest weather conditions, long hours and limited breaks, your traffic control personnel are there daily saving lives and bringing workers home safe every day.
They are the least respected person on the job site. When you see a blinding snowstorm or rainstorms traffic control personnel are out in it somewhere. When the signs, cones and delineators are covered in mud from the traffic it also covers the traffic control personnel. From +40°C on new asphalt to the -40° in winter or at motor vehicle accidents, a traffic control person is out there doing their job -- saving lives.
---